Home
History 1973 to present
2010 Pierce Pumper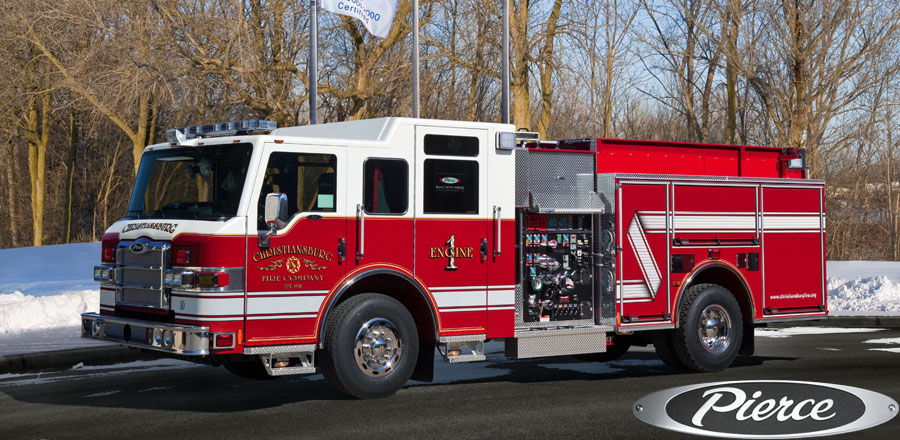 In September 2009 the department voted to purchase a 2009 Pierce Custom pumper on an Impel Chassis for a total cost of $394,000. This truck features a 1,500 gallon per minute Waterous pump and a 1,000 gallon poly booster tank along with 30 gallon foam tank. Other features of the truck are seating for 6 with 6 SCBA's, Husky Foam System, wireless Firecom headset system, 2 1 ¾" speedlays, 1,000' of 4" Stortz coupled hose, 500' of 2 ½" hose, 200' of 1 ¾" hose, 100' of 1 ¾" trash line, Task Force Tip Extend-a-pole Deck gun, 8Kw Hydraulic generator which will run a 200' electric cord on a reel, 2 telescoping lights, front brow flood light and a rear flood light. Equipped with all roll up doors, 24' extension ladder, 14' roof ladder, folding ladder all on a Hydraulic Ladder Bracket, 17' Little Giant ladder, back board, rear 6" suction inlet, 4" discharge, LED lights on each side and rear for scene lights, LED cabinet lights on each side of the cabinet, and 2 10' sections of 6" suction hose in a rear cabinet.
This truck is first out on all of our structure fires, alarm drops and investigations, chimney fires, and CO calls. It also responds to all accidents and vehicle fires and carries all of our Extrication Tools and supplies.
This truck was delivered in March 2010 and replaced the 1979 Pierce Hendrickson Pumper and is known as Engine 1. Placed into service on June 27, 2010.